Super Pulsed Cold Laser Therapy
Super pulsed laser therapy offers natural, safe and effective pain relief. The Multi Radiance Super Pulsed Laser is a revolutionary technology to temporarily relieve pain, improve function, improve blood flow and increase mobility, all of which increase the quality of life. Dr. Ralph is pleased to be one of the only doctors in the area who has this treatment available. 
Laser therapy is a non-invasive method to help reduce acute and chronic pain. Laser therapy can be safely used as an adjunct or replacement for pharmaceutical drugs. This pain relief treatment is FDA cleared and enables patients to have an alternative to drugs and surgery. Laser treatments take just minutes depending on the condition being treated. Laser treatments must be administered directly to skin for better efficacy. You feel a soothing warmth as the therapy is administered.
Patients generally see results after 2 to 5 treatments. Dr. Ralph Santonastaso will develop a treatment plan that is optimal for your condition based on his initial evaluation. Multi Radiance Medical laser technology has been used safely and effectively by a wide range of patients for over 5 years in the US, and for over 20 years in other countries in physical therapy, orthopedics, outpatient clinics and elite athletics, where MR4 Laser is the "equipment of choice" for numerous professional, Olympic, National and collegiate sports teams.
What Can The Laser Treat?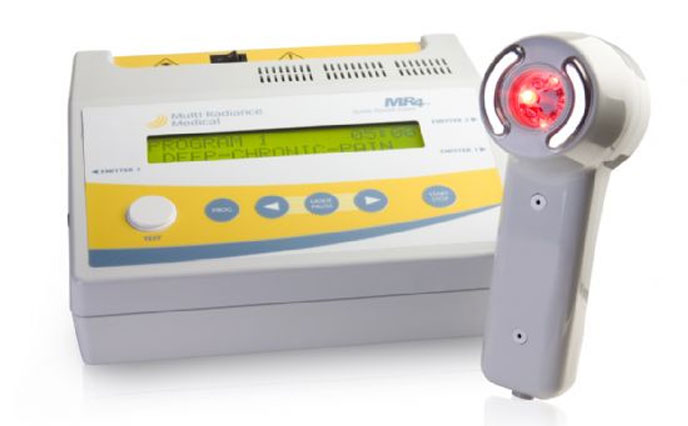 Laser Therapy has been effective in treating over 300 conditions, some of the most common include:
Arthritis

Bursitis

Cervical spine pain/strain

Disk herniation

Frozen Shoulder

Injuries-Meniscal knee

Muscle Strain

Osteoarthritis

Pain acute from trauma

Rib pain

Soft tissue injuries

Sprain (acute, ankle, elbow, knee, sacroiliac)

Tendonitis (Achilles, patellar, rotator cuff, semi-Membranous)

Tennis Elbow

Upper Extremity Edema/swelling

Wrist sprain